Entrepreneurs and investors who have spent any time dealing with convertible debt seed financing transactions are likely to have encountered the subject of valuation caps.  In brief, a cap acts to place a limit on the conversion price of a convertible note such that investors are guaranteed a minimum number of shares for their bridge loans if the startup does a priced equity financing round at a high pre-money valuation – "high" meaning above the cap, which is often a heavily negotiated term.  (The cap is irrelevant if the next equity financing is at a valuation below the cap amount.)  Rather than reinvent the wheel, I would point readers to Martin Kleppmann's useful  blog post with graphs illustrating the effects of a valuation cap on entrepreneurs, seed investors and later-round (typically VC) investors.
Valuation caps can come into play in settings other than seed-stage convertible note financing rounds.  Depending on the circumstances, they can shape the fundamentals of an exit, redistribute value among stakeholders, or even kill a deal altogether. Never missing an opportunity for a good war story, I'd like to revisit one high-profile transaction, the $650 million acquisition of MySpace by Fox Interactive Media, on which I spent many sleepless nights along with the rest of the deal team in July 2005.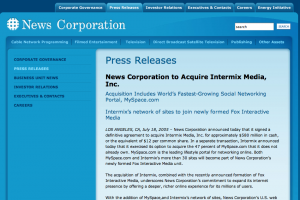 This discussion expands on my Quora answer to a specific question: "Why were the stock options of MySpace employees worthless even though the company was sold to News Corporation for hundreds of millions?"  The complete story includes a startup-within-a-startup, investments and exits by two VC firms, and some genuine corporate drama.
The TL;DR answer to the stock option question is that MySpace options were cashed out at modest value at the time of the FIM merger, coming on the heels of the spin-out of MySpace into a separate subsidiary by parent company Intermix Media, with an infusion of new capital from Redpoint Ventures.  There were two distinct classes of employee equity (issued by Intermix and MySpace, respectively) with different valuation and vesting situations—and, most significantly, a $125 million valuation cap applied to the buyout of MySpace equity that was triggered by the acquisition of Intermix.  Read on for a fuller explanation.
Because Intermix was a public company at the time, the related SEC filings and their exhibits, including the 81-page proxy statement and 42-page merger agreement, make for good bedtime reading.  For more page-turning corporate drama, including the feud between Intermix co-founders and UCLA college buddies Brett Brewer and Brad Greenspan, Nasdaq delisting, proxy contest and lawsuits by Greenspan after he was fired as CEO, see Stealing MySpace by WSJ reporter Julia Angwin.
Intermix and its advisors knew MySpace was a hot property, so the spin-out was structured with an option to buy back the remaining 47% of MySpace at a predetermined valuation of $125 million if an acquisition offer was received within a year
The
early history of MySpace
is inextricably intertwined with that of Intermix, a small-cap publicly traded Internet company (AMEX: MIX) in Los Angeles where I worked as corporate legal counsel from 2004-06.  MySpace was incubated by a small team of employees within Intermix in 2003 (
Chris DeWolfe
, 
Tom Anderson
,
Josh Berman
,
Aber Whitcomb
,
Colin Digiaro
and
Kyle Brinkman
).  Intermix had acquired their previous online marketing startup, 
ResponseBase
, and they remained a cohesive group.  Intermix wasn't an
incubator
per se, but it created, acquired and operated a portfolio of consumer Web properties in the areas of content, community and e-commerce, of which MySpace turned out to be the biggest hit by orders of magnitude, becoming the fastest growing site in the history of the Internet and the defining brand of the social media explosion between 2004 and 2008.