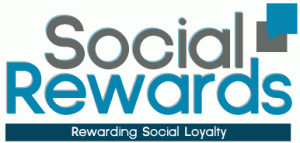 Social media startup Social Rewards went live this week with an ambitious new service that aims to reshape the landscape of loyalty programs such as airline miles and hotel points, leveraging the power of social media to amplify marketers' messages in a clever and cost-effective manner.  (Full disclosure:  Social Rewards is one of my clients.)
Social Rewards is the brainchild of two experienced Southern California entrepreneurs, CEO Joseph Morin and CTO Mike Uesugi.  (Many readers may know Joe from his role as an evangelist for the PubCon series of Internet marketing conferences.)  The business model is elegant in its simplicity:  Reward enthusiastic fans of a product or brand for acting as evangelists by sharing promotions and offers through social media (initially Twitter).  Social Rewards effectively turns thousands of individuals into "mini-affiliates" by giving them a cut of the action when one of their social media contacts books a hotel room (for example).  Transactions are tracked using unique shortened URLs (similar to affiliate ID numbers) and members can earn and redeem points accordingly.
The beauty of this approach is in its simplicity to implement.  Any marketer that has experience using loyalty programs, affiliate marketing and/or social media marketing should feel right at home because Social Rewards essentially combines these ingredients with minimal hassle.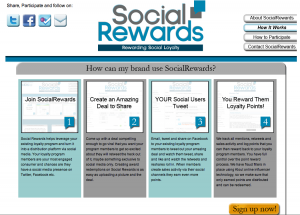 For most sophisticated marketers, all of the hard work in determining what kind of promotions and rewards to offer, how much to pay affiliates to generate positive ROI, which types of messages resonate most effectively when delivered through social media, and so forth has already been done.  Social Rewards takes care of the back end; the platforms for getting the message out already exist on a massive scale; and perhaps most importantly, the whole thing can morph along with the social Web as different services wax and wane over time.  (The same message in 140 characters on Twitter could just as easily be shared on Facebook, MySpace, Foursquare or anywhere else, provided the unique offer link is kept intact.)
I'm proud to represent Social Rewards and wish Joe and Mike the best of luck as they build a company around this innovative service.  If you are a business that offers any type of loyalty program to your customers, visit their site here to learn more about participating.  If you're a consumer who enjoys earning loyalty points, stay tuned for news from some of your favorite brands.