Martindale-Hubbell is a legendary name in legal circles, synonymous with legal directories dating back more than 140 years.  Long before the Internet existed, a ritual among junior associates at law firms was to pull the weighty leatherbound tome off the shelf, find opposing counsel's M-H profile and hand out copies to everyone on the deal or case team.  Know thy enemies.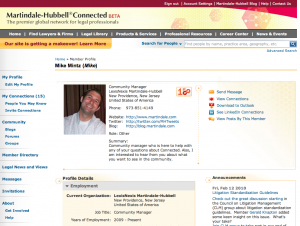 Now owned by LexisNexis — itself a division of Reed Elsevier — M-H is making a strong push to enter the Web 2.0 era with its own social network for lawyers, Martindale-Hubbell Connected.  At first I was skeptical of yet another online social network — even within the legal vertical, sites like Legal OnRamp have existed for a few years — but M-H Connected is making serious inroads by virtue of its unparalleled name recognition and connections throughout the legal community.
Mike Mintz — MH Connected's equivalent of Tom — invited me to do a 10-minute interview on their Connected Pulse show as part of a week of events related to international expansion.  We covered a range of subjects related to social media law, online liability, privacy and data protection, drawing on experience from the international rollouts of MySpace and eHarmony.  Perhaps the best part is at the end when Mike put on his James Lipton hat to ask me 10 questions in a kind of "Inside the Lawyer's Office" moment.  Many thanks to Mike and M-H Connected for putting this together, and for persevering in the face of some technical glitches.