Quora has become fertile ground for discussion recently. With its question-and-answer format and snappy, highly interactive user experience, I've increasingly found myself spending more time answering questions there than penning new blog posts on my own site, Mashtag.
Occasionally a question comes along on Quora that resonates with me on a personal level, calling for a more in-depth answer that draws on my own experiences as a Silicon Valley native and tech industry lawyer. One such question, "What was it like in Silicon Valley after the bubble burst in the early 2000s?" led me to write one of those answers. I was humbled to see Robin Wauters repost an excerpt in TechCrunch (complete with my mug shot) and link to my Quora answer on the subject. I've reposted the piece in its entirety here for those who don't care to go down the Quora rabbit hole.

What was it like in Silicon Valley after the bubble burst in the early 2000s?
Sudden, shocking, and depressing. I think most of us saw it coming, but the speed and severity of the crash came as a hell of a shock. Settle down, youngsters, for a long answer from a Valley native who labored in the trenches at two firms at the heart of the boom-and-bust cycle (parental discretion advised).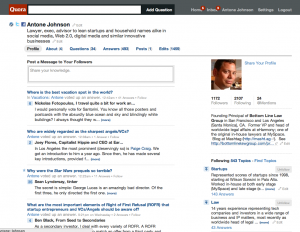 By 2000, it seemed like everyone I knew in their 20s and 30s was working for a dot-com. (That should have been a warning sign right there.) Not just Bay Area locals; new college grads and experienced business and technology professionals were migrating here from all over the country in the years leading up to the crash. Commentators famously compared it to Florence during the Renaissance. The housing market was beyond ridiculous at the peak. I mean worse than the usual "Bay Area ridiculous" that's been the status quo since the 1980s. (People were resorting to paying six months or a year's rent in cash in advance in order to get a decent apartment in SF.) Having moved back to Palo Alto in 1998, I barely recognized my home town; every billboard up and down 101 advertised some kind of Internet business with a silly name. I worked for a high-profile Internet company (Excite@Home) whose gleaming new headquarters served as a billboard of sorts, right up against 101 in Redwood City with our logo visible to thousands of cars whizzing by — or rather inching by; traffic during that period was as bad in the Bay Area as it was in LA, with even 280 turning into a pretty bad traffic jam most mornings as people commuted south from the City to thousands of newly created jobs at newly created companies up and down the peninsula.
Leading up to the crash, I worked in a job that was tightly tied to the state of the "dot-conomy." As a lawyer in one of the corporate groups at Wilson Sonsini Goodrich & Rosati in Palo Alto, the Valley's largest law firm, from 1998-2000, I contributed in my own little way (there were hundreds of us) to the IPO, M&A and VC factory that was WSGR at that time. It was the best career decision I ever made because of the doors it opened, but it also became sheer misery by late 1999 when everybody and their dog was trying to go public at once. When I left to go in-house to Excite@Home (April 2000, coincidentally the date of the first Nasdaq "correction"), my group alone (two partners, several associates and paralegals) was working on nine IPOs simultaneously, on top of all the usual venture financings, M&A and general corporate work.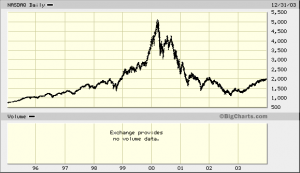 Corporate finance is one of the most cyclical areas of work there is. When public markets are going strong, everyone is in a rush to close public offerings while the window is open. When the window is shut, nobody can do much but sit and wait (except the occasional "fire sale" of distressed companies and assets). Of the nine IPOs we were working on in April, I think two of them (both biotechs) made it out later that year. The remaining companies never went public. I think they either went under or were eventually acquired by bigger companies. The IPO market has never been anywhere near that active in the decade since. Continue Reading