I recently responded to this broad, open-ended question on Quora: "What are some ways to prevent and/or deal with legal issues that arise from actions of users on user generated content websites?" Given that I spent the past five years at MySpace and eHarmony dealing with a parade of those very issues, I decided to swing for the fence in answering that one. You can read the original answer (and I encourage you to follow me on Quora for more good stuff in the future), but I decided it was worth posting a beefed-up version here at Mashtag with some additional background. Site owners in a hurry may wish to skip the commentary and jump to the TL;DR list of practical tips below.  As always, as my friends at the Social Media Club like to say, "If you get it, share it!"
Policing the fastest-growing boomtowns in the virtual Wild West
Broadly speaking, from the site owner's perspective, as the headline reads, if you build it, they will abuse it. That's actually not quite true; if you build it, and they come — i.e., users visit in significant numbers and keep coming back, some will abuse it.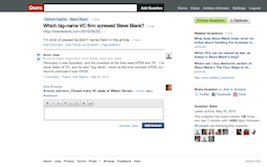 Whether it's spammers hawking Canadian pharmacy deals, pedophiles, identity thieves or Nigerian money transfer scammers, those wearing black hats are all too familiar with the strategy of going fishing — or phishing, as the case may be — where the fish are. (At eHarmony, one of our engineers joked that we should consider it a compliment of sorts the first time we got phished; stealing someone's online dating password doesn't exactly rank up there with getting access to their PayPal account.) Put differently, as Willie Sutton apocryphally said, he robbed banks "because that's where the money is."
We learned this the hard way at MySpace around 2005, when the site exploded in popularity among teens and young adults — at one point adding more than a quarter million new users per day. (Facebook was still limiting itself to the college market at the time.) It was an overnight cultural phenomenon among people aged roughly 12-25, to which everyone over 40 was completely oblivious, including parents, teachers, police and prosecutors. Tragically, it didn't take long for the fishermen to figure out where the largest school of fish in history had gathered.
To be candid, an open, profile-based social media site like MySpace can be a predator's dream. Drawing on the natural traits of exhibitionism, narcissism and voyeurism that blossom in adolescence, the site was brilliantly designed to empower young people to display their individuality online to the whole world as simply, flexibly and frictionlessly as possible, sharing every detail of their daily lives, friends, interests and passions.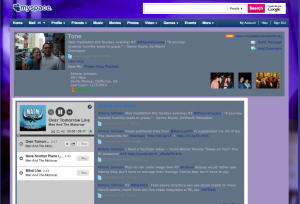 Not surprisingly, young people jumped at the opportunity to do just that, to the tune of more than 1.5 billion page views per day — roughly 17,000 per second — with 2.3 million concurrent users.  To grasp the size of that virtual crowd, picture a stadium the size of the Rose Bowl, packed to capacity — 25 times over.  (At one point, our CTO, Aber Whitcomb, told me we had to unbox, install and provision eight or 10 new servers every day to keep up with growth.  This was before AWS came along, of course.) To a high schooler, MySpace became the online equivalent of wearing band T-shirts to school the day after a concert, decorating a locker with pictures and bumper stickers, and plastering bedroom walls with posters of idols and sex symbols — but open to the entire world. Continue Reading