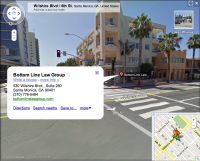 This week, Bottom Line Law Group moves into new office space at 530 Wilshire Blvd. in Santa Monica, sharing a suite with top-notch entertainment law firm Doyle & Miller.  (Thanks to Matt Polesetsky of Demand Media for hooking us up.)  The new location, at the heart of the Internet, VC and digital media industries in Los Angeles, is where we want to be, literally and figuratively.
Meanwhile, 381 miles north in San Francisco, we've given up the pleasantly nondescript environment of office suites to take up residence at pariSoma Innovation Loft, a strikingly redone Francophile coworking space at 1436 Howard Street that hosts many startup- and tech-oriented events, including my "Ask the Lean Startup Lawyer" office hours last month —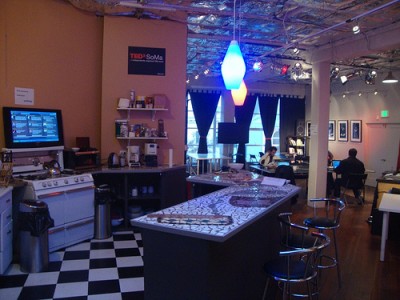 a successful event we'll be repeating on April 7.  While I've heard of other lawyers operating from coworking spaces, given the startup-centric nature of our practice, I'm interested in the inherent business opportunities of locating in a collaborative environment that, by its very nature, serves as a beehive of activity where freelancers, solopreneurs, lean startups and others cross paths.  pariSoma declares that its mission is to "promote the growth of collective intelligence through five core values – community, collaboration, innovation, openness and sustainability."
More broadly, although there are some inherent challenges around confidentiality and IP, I support the coworking movement and see it as a natural fit for today's lean, nimble tech startups.  Working from home is an option for many, but coworking breaks the isolation that can result and adds a welcome layer of in-person interaction that is lacking in virtual companies, notwithstanding the power of social media.  Biznik's slogan, "Going it alone, together," seems an apt description for coworking in the offline world.  I'm glad to have connected with the folks at pariSoma and Citizen Space in San Francisco, as well as BLANKSPACES in Los Angeles, and will be watching the growth of coworking spaces around the country with interest.