From time to time we'll ask guest bloggers to write a piece for Mashtag. This week, Greg Meyer offers some thoughts on ways for companies to use social media most effectively to connect with customers, partners and other stakeholders. Thanks, Greg!
It's easy to think that either the entire world is listening to you on Twitter or other social networks or that the converse is true: despite your best efforts, no one is listening.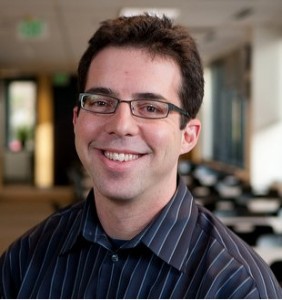 Twitter, in particular, can feel like an echo chamber where your words are amplified by your friends and ignored by everyone else.  Engaging with potential followers on Twitter or elsewhere is not complicated, but does require thinking and work.  First, you need to engage in conversations that you find genuinely interesting.  Second, you need to write and contribute your thoughts so that other readers know you're not just endlessly repeating the work of other people.  And finally, you need to amplify the words and deeds of people you find are interesting. In my work at Gist as Customer Experience Manager helping users to be successful at listening and responding to social media, or personally when I interact in social media, I use these methods to build better relationships with my current and future contacts.
Engaging in conversations that you find interesting doesn't mean jumping in where you're not wanted (though occasionally a well-timed hashtag can help get your message to people who might otherwise not be listening).  It does mean reading the questions and statements people make in social media and responding with a genuine, authentic voice.  If you like an idea, say so!  If you don't agree, say so in a gentle way — respecting the other person's point of view while pointing out the differences in your opinion — and move on to the next conversation.  Because you never know where your next customer might come from, treat the people with whom you're engaging in social media as well as you do your customers (some of them will become customers over time).  I use tools like Gist to follow my most important contacts for precisely this reason: to let them know I'm listening and that I care about what they have to say, customers or not.
Simply listening to what the Twitterverse (or blogosphere) is saying does not give you license to criticize people in social media or even, really, to vehemently disagree.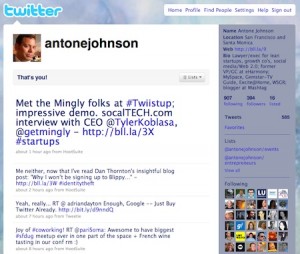 If you provide your thoughts and contribute to the conversation (either as a social media agent on behalf of a company or brand or as your own voice), other people will respond and give you the opportunity to converse with them and engage on a topic.  The best conversations I've had in social media have happened when I've simply written about something because it moved me or because I had a thought (or several) that I wanted to share.  I use the daily conversations I have with customers as a springboard to think about larger, more system issues they may be facing as they try to communicate their messages online in a medium with no one clear publisher.
Finally, you can best telegraph the things you believe in by amplifying the thoughts and ideas of others.  This can be as simple as a retweet stating "Great idea" or "Powerful post", or as complicated as a multi-part blog post or whitepaper where you provide attribution for an original idea and demonstrate how you can engage and respond to that idea with your own thoughts.   You can also help to amplify people's work offline, by using social media as a reminder to call them up and tell them how their ideas made you think.  For those friends you only know online, take a minute to email them and let them know what their thoughts meant to you.
So how do you engage with potential followers online (and offline)?  Be authentic.  Listen to what they are saying, and respond with your own thoughts to show that you can contribute to the conversation.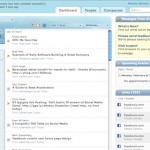 I use the Gist Dashboard daily to give me an importance-ranked list of the important people in my network and the news, blogs, and tweets about and by them.  By sharing items with my contacts through email, Facebook, and Twitter, I can also communicate to friends, customers, and prospects in the channels they prefer.  This work happens whether I'm at my desktop or out and about on my mobile device, but the goals are still the same.  Listen to my network.  Contribute something to the conversation.  And let the world know when you think something that someone wrote is cool.
Greg Meyer is Customer Experience Manager at Gist in Seattle, WA.  Gist helps build stronger relationships by connecting the email inbox, social networks, and CRM systems to the web to provide business-critical information about the people and companies that matter most.  Gist provides an entirely new view on leads, contacts, and companies by intelligently prioritizing them, aggregating information about them, and auto-generating profiles (summarizing emails, links, attachments and related news) for those people and companies.